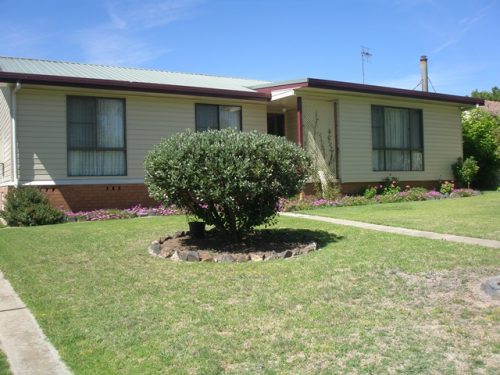 WELCOME TO NISTAR
Nistar is situated in Uralla, on the Northern Tablelands of NSW.
This is the land of the Anaiwan People and "Uralla" means ceremonial meeting place. The Aboriginal history of this area dates back at least 5000 years.
Uralla is right on the highway and is situated 501km north of Sydney on the New England Highway and 485km south of Brisbane on the Cunningham/New England Highway. It is also known as Thunderbolt Country, after the bushranger Captain Thunderbolt.
After living in Sydney all my life, I moved here in 1999, and could never go back to the hustle & bustle of the city. The dogs love the moderate climate, and always have beautiful coats.
My introduction to Goldens was in 1976, when I purchased a puppy, Karrell Authentic, for my then boyfriend as a birthday present. "Duffy" was from the first Golden litter bred by Jann Trout. We took him to shows, and did quite well with him. Unfortunately, as things go, we split up, but my mother showed German Shepherds so I started going to shows with her, and wanted to get more involved.
Nistar was established in 1979, when I acquired my first dog. My foundation bitch (Miaura Topflight) was purchased in 1981, she had her first litter in 1983, and the rest is history.
Rueberry Figero (Boris) and Rueberry Fantacy Of Laytoncroft (Jenny) were imported from the UK in 1985, Jenny being in whelp upon arrival. She was the first Golden to be imported to Australia in whelp, and a litter of seven were born in quarantine.
All my Goldens are my pets first, and show dogs second. Because of our location, we don't get to many shows, so the dogs enjoy being "just dogs", but do enjoy our trips to shows. They are also my kids, as I don't have any of the human kind!
I have been a member of Dogs NSW since 1979, The Golden Retriever Club of NSW Inc since 1981 & The Golden Retriever Club of Victoria Inc since 1983. I served on the committee of GRCNSW, mainly as Publicity Officer, from 1982 – 1999.
Nistar is a small kennel striving for the best in type, temperament and soundness. I have bred/owned dogs that have excelled and been titled in the show, obedience, agility and retrieving trial rings, but most importantly, loving and happy pets.
Until 2006, I concentrated on selective English and Australian lines, but then introduced American blood with the arrival of Kingsgold Special Edition (AI). I bred my first nearly all American litter in August, 2007, and have some exciting litters planned for the future, hoping to successfully combine all three lines.
Pups are available occasionally, as I only breed to keep something to go on with. All my adults hold certificates for hips, elbows, eyes and hearts and have been DNA tested for all diseases specific to Golden Retrievers.
*** PLEASE NOTE: ALL PET PUPPIES ARE REGISTERED ON THE LIMITED REGISTER, NO EXCEPTIONS. ***
I sometimes have an older dog or pup that has retired or not suitable for showing looking for a loving pet home.
Genuine enquiries from suitable homes are always welcome.